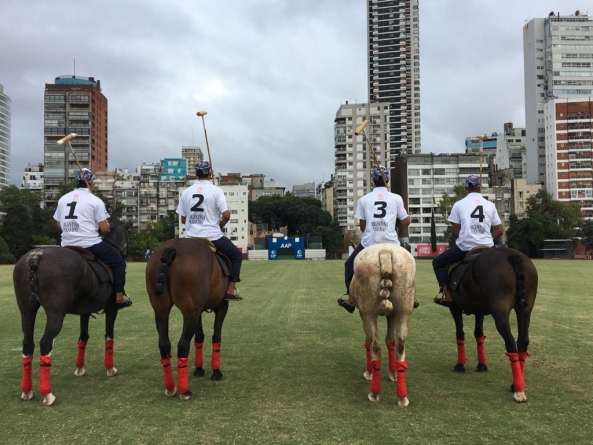 How About Polo Today? The national and international polo calendar totals more than 1500 tournaments per year. For all levels and in a great majority of countries around the world, polo tournaments can be seen throughout the year.
Tournaments and Seasons in Argentina
The small-size polo season in Argentina generally starts in March. The Argentine Polo Association (AAP), which organizes and groups clubs and players in our country, publishes the dates and handicap level of each of the matches.
You can find about ten championships per month, between male and female and for different levels. There are:
– Two Amateur categories (M and F)
– Three Low categories (two M and one F)
– Three Medium categories (two M and one F)
– Two High categories (M and F)
The best known high category tournament is «The Triple Crown», and includes the Tortugas Open, Hurlingham and the Argentine Polo Open. These three tournaments are usually held between September and November, during the high polo season in Argentina.
Teams and Winners of the Argentine Open Polo Championship
The Argentine Polo Open is played with ten qualified teams with handicaps between 28 and 40. In its latest 2019 edition, the participants were the following:
La Dolfina
La Dolfina Polo Ranch
Las Monjitas
Ellerstina
The Nativity
La Aguada
La Ensenada
La Irenita
Yatay Farm
La Albertina.
The winning team was La Dolfina winning the podium over Ellerstina by 16 to 12.
La Dolfina, currently the best team in the country, with Adolfo Cambiaso as leader being the best player in the world, has won eight of the last ten Argentine Opens.
During November and December, the Women's Open is also played, with players between 16 and 30 goals of handicap (female valuation).
Polo Awards
At the end of each year, awards are given to athletes named Olimpia and Jorge Newbery.
On the last occasion and already awarded thirteen times, Adolfo Cambiaso won the Silver Olimpia, who in 2014 also won the Gold Olimpia.
He also won the Jorge Newbery for the sixth time.
World Polo Championship
The sport of polo also has a world championship like most sports. It is a competition between countries and is organized by the International Polo Federation (FIP).
It is played every 4 years and the teams can be mixed.  Interesting: polo is the only sport that allows mixed teams!
The teams with the most titles are: Argentina, with 5 championships won, and Brazil, with 3 championships.
There is a particularity in this championship and it is that the participating teams must have a handicap of up to 14 goals; it is for this reason that, unlike other sports, the best exponents of polo cannot take part in the World Championship.
Although the first championship took place in 1987, the last championship was in 2017 and was held in the city of Sydney, at the Sydney Polo Club where Argentina won the Gold Cup.