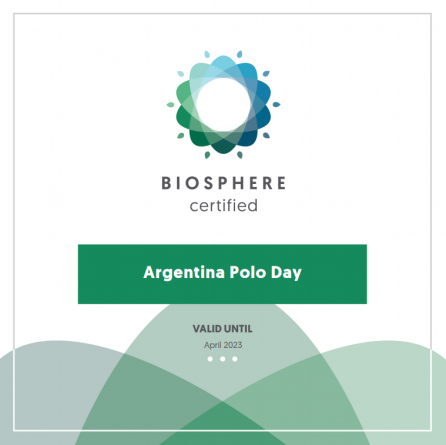 First Argentine Company to Obtain the Biosphere Certificate
Argentina Polo Day, pioneer and leader of Argentine Polo, has become, after a year of hard and continuous work, the first Argentine company to obtain the Biosphere Certificate in sustainable tourism.
This certification is provided by the world organization Biosphere, which in Argentina has a strategic alliance with Fundación Plan21, which is exclusively dedicated to developing and promoting sustainable tourism in the world.
11 years ago Argentina Polo Day was founded. From its inception, the company trained and worked on key sustainability fundamentals. The process for obtaining the Biosphere Certificate was one of great learning, on the one hand, to implement new initiatives, and on the other, to highlight and communicate what had been done for a long time. The excrement of the horses was already reused as fertilizer for the land and the grass that grew was intense green and much more nutritious for the animals. The broken polo balls could be transformed into decorative elements. The care of water and energy was emphasized, as well as clients and staff were educated on the protection of local biodiversity. Zonal purchases were prioritized, not only for the development of the local ecosystem but also to reduce the carbon footprint.
Last year a path of greater responsibility towards the environment began and it is a process of continuous improvement. A present way of working with an impact on the future. Take care of the land, flora, fauna. Take care of the people and resources available. Argentina Polo Day is a place for us, our children and future generations to enjoy it. There is only one way to carry it out and it is jointly and sustainable with the system.
Argentina Polo Day is a pioneer in Sustainable Tourism in Argentina, it will set the course for many others. This Biosphere Certificate granted by Biosphere raises a permanent commitment, of greater responsibility and care of our destiny and our planet.
Celia Alfie, in charge of the project in Argentina Polo Day comments "it was a very enriching process, of enormous learning for the whole team. Our daily commitment to sustainability is now reflected in certification. We are very excited and very committed to continuous improvement «
Fabián Román, CEO of Biosphere Argentina and President of Fundación Plan21 remarks "the innovative outlook of Argentina Polo Day, which understood the importance of joining international initiatives, of globally recognized prestige and a pioneer in contributing to the Sustainable Development Goals of United Nations. APD marks the path that many companies in Argentina and Latin America will surely take «
About Argentina Polo Day
Argentina Polo Day, at La Carona Polo Club, is located in Capilla del Señor just 50 minutes from the City of Buenos Aires. It was born in 2009 and offers accommodation, Argentine gastronomy and field and polo experiences, so that those interested not only enjoy a polo match but also learn to play it in a natural environment and enjoying the best of Argentine traditions. It has the only illuminated Polo Arena field in Argentina and offers the innovative Polo by Night on a regular basis.
It has more than 150 polo horses and a professional team of instructors so that national and foreign visitors and polo players can enjoy this exclusive sport all year round.
About Plan21:
Plan21 is an NGO for Development born in Argentina, with one of the oldest Sustainable Tourism Programs in the region, which has been working for years to preserve natural capital and improve the quality of life of our communities, from the paradigm of Sustainable Human Development. Our Vision is: «A diverse, inclusive, supportive society and sensitive to life on Earth.» Plan21 has extensive experience in relation to the Sustainable Tourism Certification as it has been part of the founding process of the Global Sustaainable Tourism Council and has been a member of the first Board of Directors representing Latin America.