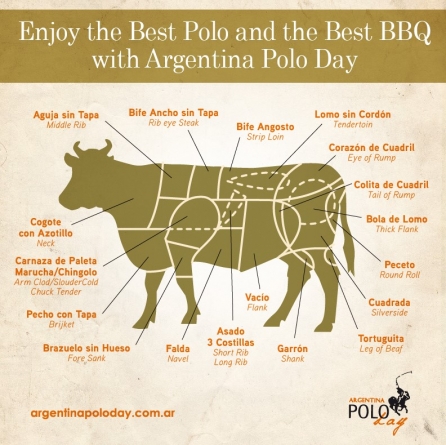 Enjoy the Best Polo & the Best BBQ with Argentina Polo Day
One of the greatest pleasures for everyone in the world is barbecue grilling. To make the most of your barbecue season, we invite you to discover Argentinian grilling. Argentina takes its beef very seriously and has mastered the art of grilling.
While beef is the king of the barbecue, you will be surprised to see more diverse cuts in Argentina. Grilling in Argentina goes beyond hamburgers and hotdogs. When we are invited to asados, you will be surprised to see the variety of offal or organ meats that made up about half of the meats on the grill.
Offal or achuras in Argentina are quite popular. You will find chinchulines (cow intestines), morcillas (bloodsausages), mollejas (sweetbread) and a variety of other organ meats. These are delicious Argentine-indulgences and can add to your grilling experience.
Preparing the meat and grilling is not a haphazard affair in Argentina. There is a ritual and process that is observed and respected. It starts with designating a grill master, called the asador. Traditionally male, many asadors learned their techniques from their fathers and grandfathers. It is an honored role. The asador takes charge of the grilling process from start to finish.
When it is time to cook, the most common appetizer served is chorizo. This is a pork/beef sausage that easily becomes a choripan sandwich when eaten with bread.
Following the chorizo, the offals are served and finally the various cuts of meat, such a beef, ribs and flank – among others!
Come to our Polo Day to enjoy our typical argentine BBQ!
For More info: www.argentinapoloday.com.ar