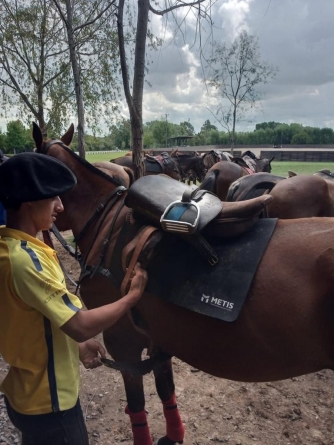 How to Prepare Your Horse for a Polo Match?
Here are the steps to prepare your horse, and, therefore, take care of him and yourself.
Place the brakes in the horse's mouth. Place one finger on each side of the horse's mouth and gently push it backward, it is a good idea to put your thumbs in the corner of the horse's mouth where it has no teeth.
Positioning the bridle. This involves placing the reins and bridles so that you can have control of the horse and the movements.
Place the apron. The placement is at the front of the horse's withers.
Place the saddle on the horse's back. Place the saddle gently on the horse's back. The saddle should sit in the middle of the apron.
Tighten the saddle to the horse. Gradually tighten on both sides as the horse exhales.
The girths and surcingle are placed. These are a kind of girdles, commonly made of hemp fabric and edged with cordovan or chamois leather, which embraces and holds the horse's saddle on its back.
Place the bandage on all four of the equine's legs to give an extra layer of protection and prevent sprains. They can also help keep the lower limbs and tendons warm in very cold situations.
Tie up the tail. This keeps the hairs from clinging to the tack.
Now that you know how to prepare your horse for your next match, you are ready to play!