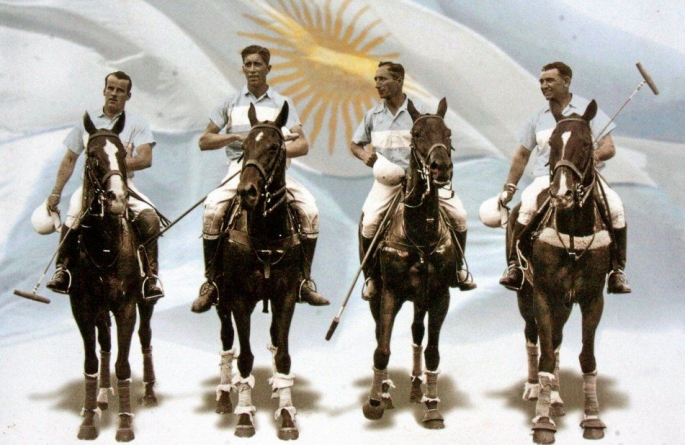 Olympic medal for the Argentine Polo
Polo is a sport that gave Argentina two gold medals at the Olympic Games. It marked a historical milestone for the country when in 1924 it obtained the first olympic medal of its history, a triumph that repeated twelve years later in Berlin.
In the Olympic Games, there were five editions in which Polo was played: 1900, 1908, 1920, 1924 and 1936. During the first three editions, the Argentine team was not part of the competition, but things changed from 1924 on.
It all started after a successful tour in 1922, which made Argentina entered into the world map after winning the Open Championships in England and the United States.
Because of these the Argentine Polo Association sent the national team to the 1924 Olympics in Paris. Thus, an official statement was released, detailing the following:
1. The team was appointed: David Miles, Juan Miles, Jack Nelson, chap. Enrique Padilla and Mr C. M. Land.
2. The Association would cover the transfer for the players plus 15 pound for the hotel cost and other expenses per week.
3. The association would also take care of the polo grooms, provided that the maximum number is six.
4. Each player would carry their polo ponies, but these must have played no less than one season and should be approved by the AAP.
5. Lastly, the committee would take care of the necessary steps so that the polo horses could be in France no less than six weeks from the start, having already secured excellent facilities in Saint Cloud, for the accommodation and care of the horses.
So, with Argentina as a participant, the tournament for the Olympic medal began.
It competed against:
• France, which has beaten 15 to 5.
• Spain, winning by 16 to 1.
• Then came England, with a 9-5 win.
• And in the final, the opponent was the USA, whom they defeated 6 to 5.
That victory, however distant it may seem, was not only the first gold medal in an Olympic Game for Polo, but also for Argentina.
Twelve years later, in Berlin 1936, Argentina repeated the title in its second participation, with the team made up of Luis J. Duggan, Roberto Cavanagh, Andrés Gazzotti and Manuel Andrada. At the Olympic Stadium in Germany, Argentina beat England 11-0 and won the second gold medal in polo and a the Olympic Oak sapling, before 45,000 spectators, which today is at the entrance to the Central Tribune of the Court 1 of the Argentine Polo Field in Palermo.
A little bit of history, a little bit of this enormous sport!