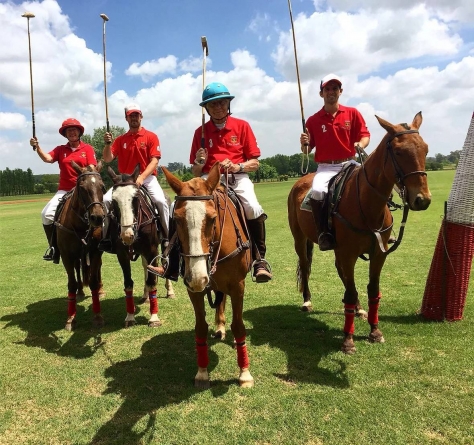 Royalty Friends: Sir Herny & Lady Antonia Riley | Prensa Polo
Lady Antonia Riley is one really lovely lady. She and her husband, Group Captain Sir Henry Riley CEng MIET RAF are currently in Argentina visiting Argentina Polo Day, the fantastic polo club and estancia, based in Capilla del Señor and established by Ruben Jabib and his wife, Celia Alfie. 
Lady Antonia and Sir Henry are not only great friends with Ruben and Celia, but also they are the UK Ambassadors for Argentina Polo Day.
Sir Henry and Lady Antonia are big polo fans and were introduced to the sport by their friends at the Royal Air Force (RAF).
Sir Henry has served as a pilot for the RAF for several years in the 50's. He became a Vicecommander of the RAF in the 70s, and later he was commissioned to train and introduce new pilots, as well as control equipment, manpower, among others.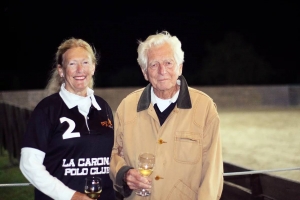 Thirteen years ago, he was bestowed a Knighthood by Queen Beatrix of The Netherlands (today Princess Beatrix, and mother of King Willem-Alexander) for his services between The Netherlands and England. He later was recognized also by Queen Elizabeth in England, who gave her approval to the Knighthood and to be named Sir, the second level of honour in the United Kingdom behind the Lord. «We got a letter from Buckingham Palace with the approval», says the Netherlands-born Lady Antonia, his wife.
Lady Antonia was kind to give an interview to Prensa Polo, while sitting next to his husband Sir Henry at the side of the arena on a Saturday night, ready for a fantastic event hosted by Argentina Polo Day, its already known and unique polo night.
So, when did you and Sir Henry got involved with polo?
I started to learn about polo only six years ago, and I'm still learning! You see, everybody think it is absolutely hilarious to start playing polo at our age – I am 64 and my husband is 89.
We got involved in polo because of a friend of ours, who is a former Royal Air Force (RAF) pilot. When we came to Buenos Aires for a business trip, I met Ruben and Celia, and we've had a wonderful friendship ever since. We come here quite regularly to keep practicing, but when we are in England, we try to play some "stick and ball" at the home of the combined military services polo, which is Tidworth Polo Club. Henry has his instructor, I have mine, we go on the same direction, and we try to learn the rules of the game!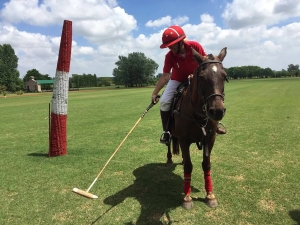 What's the difference between polo in Argentina and England?
First of all, everything is bigger here, you can have a polo club with about 4 or 5 indoor or grass polo fields; the land is not a problem. Also, the horses here are absolutely beautiful. For us, Argentina Polo Day is pretty much the House of Polo. It is a honor for us to come and stay here, they are the most fantastic and patient teachers for us. Ruben and Celia are absolutely the best, really they are!
Do you remember the first time you came to Argentina?
When I first came here, I was on my own, and it was my birthday. I was on my own and I have to say I felt quite miserable because normally we have a big birthday bash with my husband. I had to work and I was here all by my myself. I booked the Polo Day. I was picked up by Ruben and Celia to be brought here. The welcome was truly unbelievable and I've never forgotten it!. A car came to pick me up, and I was taken to the polo club with a number of other tourists and we had a fantastic welcome with empanadas, wine, asado, really beautiful! Unbelievable! They showed a polo match, told us about the rules. After that, they gave us the polo sticks, and we all were strangers learning and trying to hit the little balls all around. But later, we were not strangers anymore. We felt at home. A fantastic experience!
How did your relationship with Ruben and Celia and Argentina Polo Day develop?
Well, when I did my trip alone and I met Ruben and Celia, I came back home and I told Henry to come, so I brought him. 
We became friends in a very short time and in fact, so good friends, that their daughter, little Valentina, who was 4 years old by that time, asked Henry -would you be my «abuelo», because she does not have one! And I told her – can I be your abuela? And she said – no, not abuela, you are Hada Madrina! (Laughs) So I am Hada Madrina!
Then, they came to England, and we were together many days visiting many places and polo clubs.
Now, this might be the fourth or fifth time we are here. We come to Argentina specially to be at Argentina Polo Day and with Ruben, Celia and Valentina.
In the meantime, we became Ambassadors for them. When we visit polo clubs in Europe or anywhere, we talk to the PR person or the Chairman about Argentina Polo Day and we try to establish a friendly relationship and spread the word about the fantastic work they do here.
How do you see the development of Argentina Polo Day over the years?
When we first came, they had a nice small polo club, called El Camino.
When we came again, they moved into this beautiful place called La Carona. 
From absolutely nothing, they created, I believe, the most beautiful Polo Club in Argentina.
The original house is from 1893, which they refurbished and it's absolutely beautiful. We stay in there at the moment. A very classic set up, a Victorian house, with dark wood, furniture, silver…beautiful! 
The first time we came to La Carona, they were developing La Pulperia and its Museo del Campo upstairs, which is about the indios and the importance in the background of riding.
Then, the next time we were here, Ruben and Celia completed the arena. At that time, they were not doing the polo night. 
Now we are here enjoying the night polo, which is absolutely superb. They have been developing a lot!
How do you feel about being in Argentina as well as being the UK Ambassadors for Argentina Polo Day?
We feel privileged to be here. We've been to other polo clubs in Argentina, and I have to say that the polo instructors here are extremely careful to match to your proper horse. They are extremely, extremely careful with my husband. You feel like a part of the family. And that's the essence Ruben and Celia have captured. The essence of this place, the personal assistance… 
I have to say also that the cuisine is very good! We visited other polo clubs and the beef and the empanadas were not as good as here!  They do care!
Follow Us