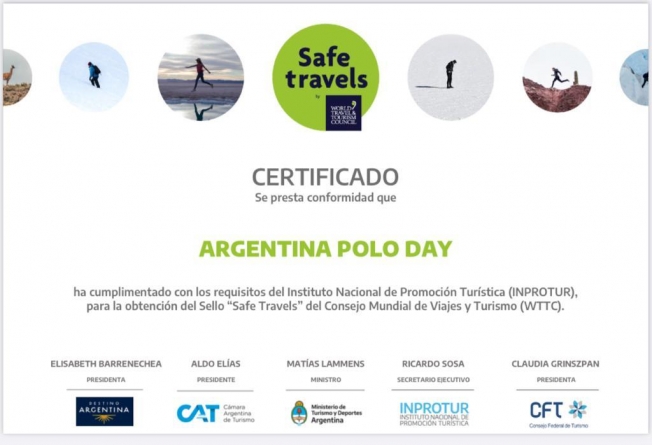 We Have Received the Safe Travels Certificate
We are very proud to announce that Argentina Polo Day has received the Safe Travels Certificate.
It is a global distinction that is awarded to destinations, companies and tourism experiences that accomplish with the health safety standards against Covid-19. It was developed and endorsed by the World Travel and Tourism Council, with the help of the World Health Organization and other international associations.
Those who obtain the stamp certify that they are a «safe» destination aligned with the rules established within the security protocol. Around 50 countries and 120 individual destinations have already obtained it in the world.
The Safe Travels Certificate seeks to recover world tourism, while taking care of the health and safety of visitors and, consequently, of the industry. Undoubtedly, it fosters good practices, thus redoubling the focus on sustainable and responsible development, in favor of global travelers and local communities.
At Argentina Polo Day we take care of every detail and we have a strong commitment to the well-being of tourists. Today more than ever, we work every day on the safety of those who attend our experiences with a proactive and responsible management.